Guns N' Roses
Chinese Democracy South American Tour 2010
03.22.10
Buenos Aires, Argentina
Velez Sarsfield Stadium
9PM Local Time
Opening Act: Sebastian Bach
40,000 tickets. *SOLD OUT*
PS.: Sold out in less then one week.
The concert was originally meant to be in the River Plate Stadium, with a 60,000 people capacity, but due to quakes that the concerts made, the venue had to be changed. Due to the earthquake on Chile, the date was changed to, it was meant to be in the 20th, and the Chile on in the 22th.
1st GNR concert in Argentina since the last 1993, when they did the last concert of the Skin N' Bones leg of the Use Your Illusion Tour, it was the last GNR concert in 8 years, and the last GNR concert with Slash, Duff McKagan, Gilby Clarke and Matt Sorum.
SETLIST
Chinese Democracy
Welcome To The Jungle
It's So Easy
Mr. Brownstone
Sorry
Better
James Bon Theme, By Richard Fortus
Live And Let Die
If The World
Dizzy Solo
Street Of Dreams
You Could Be Mine
The Ballad Of Death, by Dj Ashba
Sweet Child o Mine
Another brick in the wall
Axl piano solo
November rain
Pink Panther Theme, by Bumblefoot
Don't Cry
Knockin On Heaven's Door
Whole Lotta Rosie
Encore:
Madagascar
Patience
Nightrain
Paradise City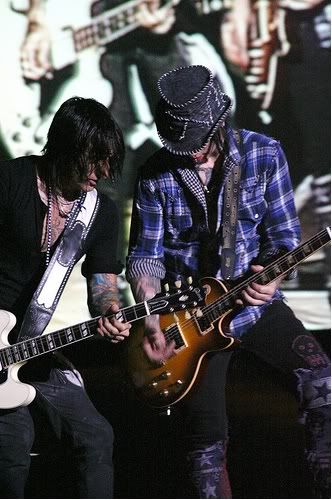 Don't Cry
Don't Cry
according to people who were in the concert, the sound was very bad, and it was impossible to hear Axl, but after the Dizzy Solo the sound was getting better. Due to the sound problem people started a chant, in spanish, "we can't hear, we can't hear, we can't hear!" and started throwing things at stage, but apparently, Axl was in a good mood and he did nothing stupid about it.
Edited by Rick, 24 March 2010 - 08:05 PM.
Fixed Don't Cry link