Contained in the booklet for
Appetite For Destruction
is the lyric 'With your bitch slap rappin' and your cocaine tongue you get nothin' done' which would later feature in the
Use Your Illusion
track 'You Could Be Mine'.
In the Use Your Illusion booklet there was a reference to 'Ain't It Fun' which of course was a Dead Boys song later covered by GN'R on
"The Spaghetti Incident?"
.
On the front cover of ]"The Spaghetti Incident?" Axl featured a coded remark that looked like this:
Back in 2008 a few weeks before the release of Chinese Democracy a fan deciphered it as 'FUCKEM ALL', and used the infamous Zodiac Killer's cypher to do so.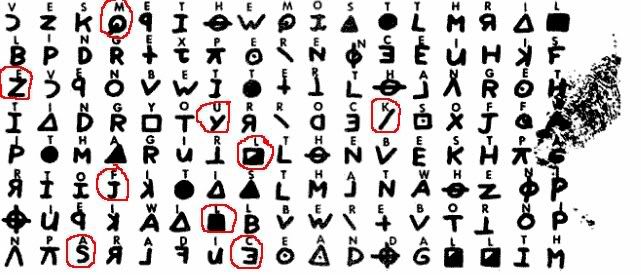 I think Axl developed an intense intrigue in the Zodiac case (which has achieved mainstream coverage more recently in a David Fincher adaption of the mystery) as far back as "The Spaghetti Incident?" and
this
was his reference to a song concept he would try to pursue on the next album, like with every other album to date. The breakdown of the band would then compromise this and he would be forced to redress the idea later on.
We know a song called
'Zodiac'
by GN'R exists, albeit in the vault:
Titles and/or Working Titles of songs which may appear on a future album:
Ides Of March ('98), Berlin (Oklahoma) ('98), Atlas Shrugged ('99), Oh My God ('99), Silkworms ('00), Down By The Ocean ('01), Soul Monster (Leave Me Alone) ('02), Seven ('02), The General ('02), Thyme ('02), Quick Song ('05), Zodiac ('05), Jackie Chan (Checkmate) ('08).

Zodiac was part of the Chinese Democracy sessions.
With all this in mind I had a look at the Chinese Democracy booklet again, which most people rubbished and hardly took a second glance at, there is some intriguing faded text on the white bit of paper positioned slightly above the basket of the bicycle which begins with '
THIS STREET HAS BEEN
', does anybody have an effective magnifying glass that could decipher what is written? Also, I think the yelping voices on the intro of the title track are highly worth exploring.